B&B PROTECTS AND TAKES CARE OF YOUR DOG
The B&B series is Danish-produced and developed by the 2 professional dog hairdressers Ann Bluhme and Gitte Bundgaard, who have both been involved in fur care for both everyday life and exhibitions for more than 25 years.
B&B is probably best known for its organic dog shampoo, but the B&B series involves much more in fur care, such as paw care, eye care and felt-free.
Although products are written for dogs, the series is also very suitable for cats.
The common denominator for all B&B products is that the products are carefully selected with gentle ingredients that protect and care for your dog in the best, most gentle and gentle way.
The products are organic, and there is guaranteed to be a care product that fits exactly to your dog or cat's fur.
B&B Potepleje . A delicious cream just to apply on and between the foot pads, so they are made supple and more resistant
B&B Felt-free Spray . A spray that can be of great help to you when you need to loosen a filtered coat.
B&B Petguard . A remedy with a remedial effect on pests such as. flees. At the same time, it provides good care for the dog's skin and fur. B&B Petguard is non-toxic.
B&B Cleaner . A disinfectant useful on trimming tables, utensils, cat trays, etc.
B&B Eye Care . A care product for the dog or cat's eye area. Gently removes dirt and tears and dissolves 'spots'.
B&B Ear Care . Effectively cleanses the ear of dirt and earwax. At the same time has a positive effect against ear mites.
B&B Sølvvand – nature's own antibiotic: A 100% naturally disinfectant treatment.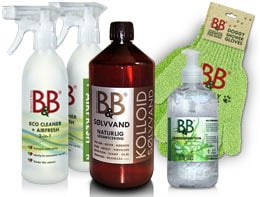 CHOOSE A DOG SHAMPOO THAT SUITS JUST YOUR DOG
Shampoo with lavender
If you want a natural and airy coat
For white coats (in case of a lot of dirt, you can let a little concentrated shampoo soak for a few minutes, and then wash in normal 1:10 solution)
For long-haired cats, especially of the breeds maine coon and Norwegian forest cat
For rough-haired breeds as it does not change structure
For poodle fur, as it gives strength to the fur and makes it easy to cut into shape '
Shampoo with jojoba
Can be used for all breeds
Is particularly suitable for dogs with skin problems in the form of dandruff, itching or other forms of irritation. The healing jojoba oil causes dandruff and impurities in the coat to 'lift' to the surface. after which it is easily rinsed off. For skin problems, it is recommended to let the shampoo soak in the coat for a few minutes before rinsing it out.
For furs that need an extra 'spice', it gives a nice shine to the coat.
Shampoo with citrus
For Collies, Spaniels, long-haired dachshunds and other dogs with silk fur, where you want the effective citrus oils to come into their own
For dogs that need clear colors in the coat
For dogs with dry or oily skin, as it restores the skin's collagen balance
Shampoo Lemon Balm (2 in 1 balm)
For long-haired dogs, where you may. want to avoid using conditioner afterwards. It significantly facilitates trimming, and it leaves the coat airy, shiny and easy to work with
For Coton de Tulear, Lhasa Apso, Shih Tzu and similar fur types
If fungal infection of the skin is suspected, this shampoo should be used regardless of breed
Shampoo perfume free
For dogs or owners who do not tolerate any added color or scent
Can be used for all breeds
Shampoo puppy
For puppies who need a mild and gentle shampoo
For puppies where you want to wash efficiently, but at the same time retain the moisture in the hair strands and thus avoid degreasing the coat
Can be used for all breeds
Conditioner with rose
For all breeds where you want to finish the wash with a conditioner that makes the coat extremely easy to style.
For very filtered fur, it is recommended to use conditioner in concentrated form, where it is massaged well into the coat and soaks for 3-5 minutes. The coat is then rinsed thoroughly
Leaves the dog with a soft, delicious and airy coat that is easy to brush through
Conditioner parfumefri
For dogs or owners who do not tolerate any added color or scent
For all breeds where you want to finish the wash with a conditioner that makes the coat extremely easy to style.
For very filtered fur, it is recommended to use conditioner in concentrated form, where it is massaged well into the coat and soaks for 3-5 minutes. The coat is then rinsed thoroughly
Leaves the dog with a soft, delicious and airy coat that is easy to brush through